Streaming content is a very popular thing in today's generation. Actually, there are many social media platforms like Facebook, YouTube, Instagram, which encourage us to do a live stream, and the user got some revenue by that through advertisements. That's why the trend of live streams increased day by day.
But ever you think why live stream got sucked whenever we perform it in high quality like 1080p and 4K. It happens because streaming needs very good uploading speed not downloading like when we do 1080p live streaming, it's required an internet speed of around 4Mbps to 5Mbps.
How much internet speed do I need for streaming content online?
Many internet service providers provide a good downloading speed, but when it comes to uploading speed, they were failed because uploading requires a good connection in between your server and your device. So, in this article, we will talk about how much internet speed do I need for streaming content for an online platform.
It also depends on which tasks you are performing and the device which you are using, like streaming games, are required more data and if we using it for working for home purpose then it might take less data consumption. It also depends on which resolution we mostly using and FPS (Frame Per Second). Scroll below to look at the requirements of speed for streaming.
What internet speed do I need for streaming?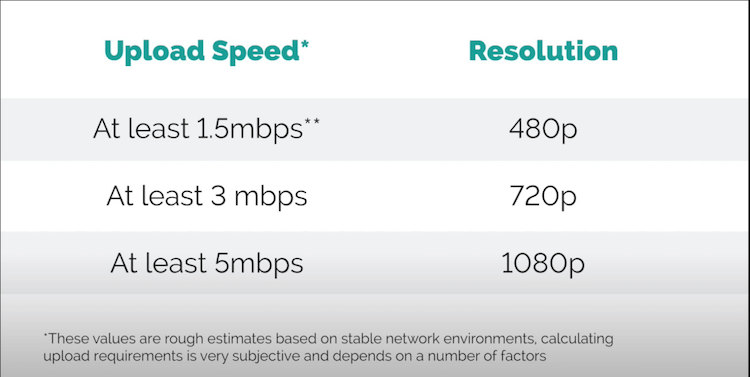 As I told you it depends on different factors. But usually, if you are doing live streaming at 480p standard definition, then it requires 1.5 – 3 Mbps ( Megabytes per second ) of speed. If you maintain this estimated speed continuously, then you never face the issues like buffering or is screen flickering.
At the time of live streaming if you're connected with multiple devices with the same internet connection, then it needs more highest speed. Although when you doing live streaming the downloading speed which it consumes is in a very less amount like only 100 Kbps of internet download speed we need to maintain.
Or if you want to increase the quality of videos like 720p or 1080p, then the broadband bandwidth speed limit we should maintain is around 5 Mbps to get a better quality of video Effect Or it also helps in video calling. But now 4K resolution of live stream is very popular, so if you want to go live 4K HDR content then you must be required around 25 Mbps offer speed. And it also demands a high configuration PC setup.
How much minimum speed we required for streaming content in Netflix, YouTube, Aur in Facebook live?
See the different platforms are using Different techniques to reduce the internet speed and provide a good quality of the content at a lower speed. So as you know there are top 3 streaming platform which is popular all over the world are YouTube Facebook, and Netflix for movie streaming. So, the question is how much data they consume from the user for uploading live content.
Netflix, YouTube, and Facebook have millions of active users. These are one of the largest streaming platforms around the world. So, for streaming, it also depends on the quality of the video which you are using. If you're is streaming at SD ( Standard Resolution ), then only 3 Mbps of speed required.
But it varies according to the quality, so if you want to do live streaming HD (High Definition), then you must maintain the speed of 5 Mbps. And for Ultra HD minimum of 25 Mbps of speed is enough to handle all the tasks.
Though this social media platform used some settings like if they recognize you have the lowest speed of internet, then they automatically reduce the quality and start live streaming at 360p force 460p. Which is a very good feature they didn't disconnect the connection. So, your followers are still able to watch you without dropping out of the live stream.