The Internet is the most important medium for connecting us around all over the world. The main thing which we need to maintain is a constant speed to run our browsing, surfing or downloading, smoother as butter. In the 21st century, technology got very advanced equipment, which helps to enhance our net speed like never before like fiber connection and Wireless transmission.
But even sometimes we felt the internet speed is not enough to handle high-performing tasks. Like live streaming, editing videos online, or uploading content on any social media website. All of these works required high-speed internet, of around 10 to 20 Mbps of internet speed minimum.
Although, we all have good broadband or telecom connections. They are providing as maximum speed as possible, but the main question is how to utilize that speed to get better results. So, in this article, we look at some of the top 10 practical solutions and the ultimate ways to increase our internet speed. Just scroll below and read each point carefully. It will help you to boost your connection speed, doesn't matter whether you are using Wi-Fi, mobile devices, or a PC.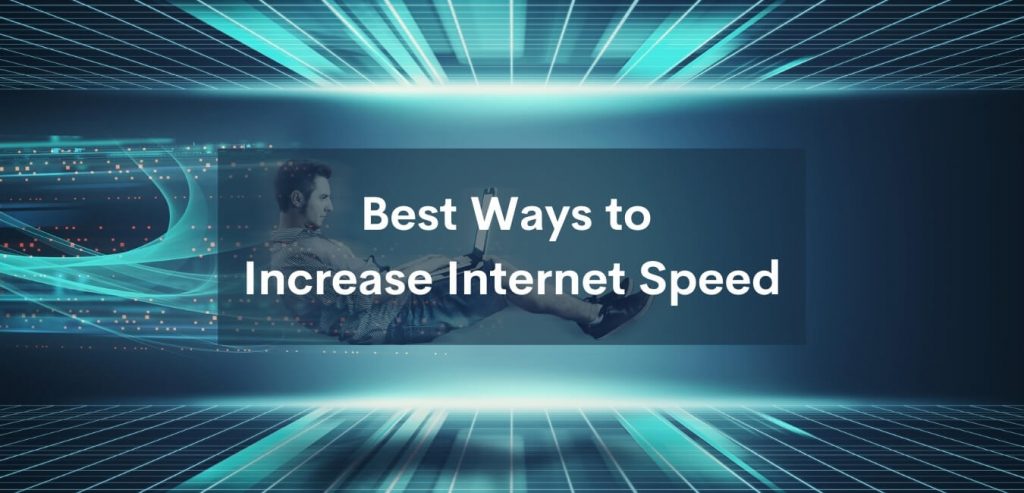 Top 5 Reasons Why the internet speed issue occurs:
Using a low-quality internet service provider.
Not upgrading the router and using the old 2.5Ghz router.
Using 3rd class old ethernet cables.
The internet speed is also affected by weather and climate change.
Our monthly subscription has a low internet bandwidth limit.
First Make sure you're getting a Good Internet Speed from Your ISP:
Before starting any method, first, you have to check how much internet speed you are getting, from your internet service provider. Because if it is already lesser then how we can power up it? It might create a problem. So, to enhance the speed ISP should maintain at least a minimum speed of around 1Mbps.
There are many websites from where you can taste your internet speed. like Speedtest.net is by Ookla, or if you want to use a trusted source then you can go with Google's internet speed test service. https://fast.com is also a good choice to check speed instantly.
So, after testing, if you're getting I good internet speed in between 1 to 10Mbps minimum, then you can easily increase it, or maintain it to a certain level, from where we get a stable internet speed to complete our toughest tasks. So, after all the setup let's start from the below points.
Best ways to increase internet speed:
Below is the best method that helps you to boost your Internet speed. Let's have a look.
#1. Position the router centrally
Often when we install a broadband or Wi-Fi internet connection, at the time of installing a modem or router, we didn't care about this point and install it anywhere around the home or office. Which is not good at all. It makes a huge difference to get a good speed. So yeah, internet speed also depends on the Positioning of the router.
What we can do is just centralize the router in our working place. Or placed it in our nearer room. Don't install it in the corner of your home. If possible, place it in the middle. Where it can catch all the locations easily.
#2. Connect Via an Ethernet Cable
As you know the previous generation mostly relayed on ethernet cables to get a fast internet speed. And still in offices we used an ethernet cable. Because there is a reason, it established the connection between the computer and router via wired cables that transmit the data through copper wires.
Which is a great source of transferring electricity. So, if you're using the modem for the internet, I suggest you connect your PC or laptop through you are a good quality ethernet cable. Definitely, it will solve your problem of low internet speed.
Connect these devices to ethernet to better speed optimization:
Smart TVs
Laptop or PCs
PlayStation, or other gaming consoles like Xbox
#3. Test or upgrade your router
If you tried the above two steps, and still facing internet speed issues. Then testing or upgrading your router helps you to overcome this problem. Like if you are a router this old enough for more than 3 to 5 years, then I will recommend you try to change it. Because the old modem router comes up with low-frequency antennas. So, the range may get affected by that.
The new generation routers are coming up with 4G LTE bands up to 4 Wi-Fi antennas and providing up to 500 to 700 MBPS speed with 5GHz bands. So always the ISP provider is not a reason sometimes the compatibility of the router is also mattered to getting a good internet speed.
#4. Protect your router and check the Internet usage
Always protect your router by securing it with a strong password. Because the strength of our Wi-Fi is available outside of our homes and neighbors' houses. Show the strangers easily access them by cracking your password. This is simply possible by third-party apps. So, if some unknowns start using your Wi-Fi, they can easily cross your internet bandwidth limit in a day by downloading big files.
One thing which you can do is, check your internet daily usage. How much the downloading and uploading of data it will take? If it's more than your daily usage. So it's important to protect it with complex passwords and change it in some alternate gap.
#5. Using a good VPN service
VPNs are not only for using protecting your privacy and your account. But a good VPN connection is able to enhance your speed with an excellent quality of downloading and uploading bandwidth. Although free VPNs are worthless, even they reduce your internet speed.
But if you using VPNs like Nord VPN or Express VPN. Which offers services for a very long time. They offer an unlimited amount of bandwidth, with a huge base of fast and Secure services. Despite their being costly, if you start using them, you feel it's totally worth it enough.
#6. Reset your router by giving them a break
Perhaps most of the router runs 24 hours in all 7 days. They work without taking any breaks, so it's our duty to resetting them once a month. It will help to refresh your internet connection. Or if possible, just turn them off every midnight. Or how to get a better internet speed, install your router from the beginning once in six months.
It's clear the catch and other unwanted files which the router uses to deliver a quality speed. Some new routers are allowing set a timer function which is also beneficial to giving them a break at night.
#7. Just Block Unusual ads
Sometimes the main culprits which we found for lowering internet speed are those unusually irritating ads. Which where starts playing automatically as we open any website for video streaming websites like YouTube Netflix or any other social media sites. These unskippable ads consume our internet data, and time, as well as thanks to our internet speed. But there is a way to get rid of them.
We can use some ad-blocker plugins. This is really helpful to restrict this type of annoying ad. You can easily add them to your Chrome extension. Or some popular VPN service also provides ad-blocking service.
#8. Switch to a different internet service provider (ISP)
After applying all the necessary steps which are possible from our side, if the internet speed error still occurs, then it's not your fault. What you need to do is contact your internet service provider and tell them about this concern. If they are not able to solve just try to change your ISP provider. Cheap internet service can't provide the quality which we deserve. So, it's better to move on.
If you are planning to buy a new connection, then I would suggest you go with a fiber-optic connection rather than old broadband services. They are more stable and offer a minimum speed of sound of 10 to 20Mbps. Which is more than enough for online streaming, gaming, and uploading huge content.
#9. Use a "clear cache" plugin
If you were accessing the internet through your browser mostly. Then I think you heard about the clear cache plugin. This is one of the best extensions to clear our cache and free up some unwanted storage. Although the cache memory is used to help for opening the website faster. But what happened sometimes is it Stores too many amounts of unnecessary files which creates a problem.
You can also manually clear your cookies and catch them by going to the browser setting section, rather than using a clear cache plugin. But extensions are very handy to use. You never need to go into the settings all the time to clear the cache. So, it's totally up to you which one you wanna use. But I recommend you clear your cache file from time to time, to avoid internet speed limit issues.
#10. Upgrade your internet monthly package
This is the last solution, which you need to apply. Sometimes when we start loving the media content, we don't think about our internet limit and watch content in high resolution like 1080p for 4K. This type of video consumes a lot of data. And the next day when the internet speed was reduced, we blame our internet service provider. It happens due to you crossing your monthly bandwidth limit.
So, after crossing the provided limit, the internet speed is automatically converted into a lower speed in Kbps. Then we only Browse the internet. The speed is not able to perform higher tasks. So just check your ISP dashboard and if you completed the limit, just upgrade your plan with a new subscription.